There is ONE photo on
the Q Center's website
which shows the type room I was in (The Q Tower) and I'm not sure how they got such a wide-angle lens (the facility is said to have been a former Catholic Girls School dormitory, before
Accenture
bought-then-sold it). While not palatial amenities, it's nice to have a room to yourself, not having to share with someone you barely know.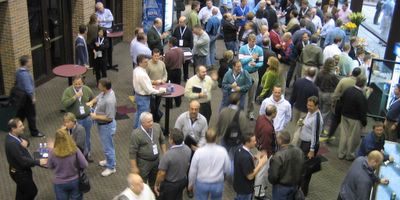 (some participants at The Q Center on a coffee break)
It was good to see so many colleagues .. many new faces and some from years gone by. There are enough of us (1300) that it was split into two waves (the second arriving within hours of our departure). The "memo on the pillow" said we had to vacate our rooms (roughly the size of the sleeper on a train) by 7:45.
The Q's food wasn't bad .. I pigged out on breakfast Tuesday and didn't even want to think about PseudoDinner (hors' de oeuvres at The Partner Pavilion) that night!
Worth noting: one of the buildings - 4 stories - has inverted the floor numbers, such that [1] is on top and [4] is at ground level. I suspect there's a logical explanation, although I had to resort to the elevator to figure out where my 2nd meeting was on Monday.