There was one Truly Amusing Food Booth at
Artfest
this morning (in Addison Circle Park):
If you can't read it, the sign says "Fried .. cheesecake, pickles, Key lime pie, green tomatoes, etc." This just goes to show that in Texas, we will deep fry most anything. I remember when
Deep Fried Barbecue
was offered at the
Texas State Fair
. You heard right: first, barbecue something, then deep fry it. No wonder we're so high on the scale of Most Obese Cities.
It's getting close to the time of year when going to outdoor festivals is a bad idea. Fortunately, the humidity wasn't awful, but the crowds were light today, and the vendors said the same of Sunday. I guess Saturday was The Busy Day.
Silly me .. I deep-scratched my good (
Maui Jim
) sunglasses last Monday, so I bought 2 pair of "who cares if I lose them?" sunglasses today for $20, but didn't see any art that knocked my socks off, so came home otherwise empty-handed. All the good stuff must have sold on Saturday, huh?
In the afternoon, HayJax and I moseyed up to Plano, where I got a free facelift: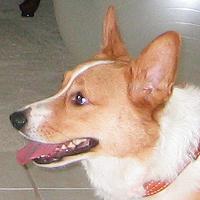 A special treat was a guest appearance by Rambo (The Wonder Dog) who was incredibly well behaved, not taking any
queues
cues from the ferocious canines at Trish- and Scott-Bob's. I should've snuck him some of Beta's favorite morsels:
Grreat Choice Healthy Treats
("Biscuits with Shark Cartilage") which are sold by PeTsMaRt.