I'm guessing there were 100+ vehicles (including two motorcycles) at Addison's
Big Daddy's Day Cool Car Show
. I took over 100 pictures (many of which were in focus!) .. all cars appeared well-maintained; I was most impressed by a 1939 Ford,
complete with the original occupants
:
and then there was the standard-issue Texas dually: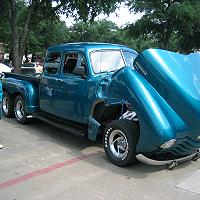 And in the "everybody's a comedian" category, the owner of a 1937 Chevy put a Bob's Big Boy figurine inside the engine compartment:
1937 Chevy with Big Boy in the engine compartment

I should have allowed more time to talk to the owners, many of whom were (rightfully) very proud of their cars.
Note to self
: showing up with one hour remaining doesn't allow for sufficient chat time.