I survived my day trip to
Elbert, Texas
today (in Throckmorton County, which is probably as close to the Texas Panhandle as I've been).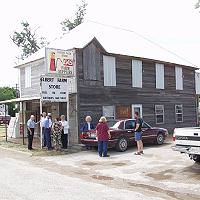 Instead of 3 people (I expected), there were 10 in our party (none of whom I'd met in person before). The owners of the wheat harvesting machines - thrashers? - were leaving Elbert, now that their work is done. Tonight, the population of this Town That Time Forgot dropped from more than 70 (including the harvesters), to its usual 56.
There hasn't been a post office in this town for about 25 years, if you can believe the last dates on the postal memos inside - it's now a drop-off location).

Olney
(the nearby "big town") is capable of sustaining several QSRs [Quick Service Restaurants] including
Subway
; Golden Chick and Dairy Queen (the latter is an
institution
in these parts, usually
where small town government happens
, de facto, every morning). I was told the nearest
Wal-Mart
(descended from the likes of
Dollar General Store
and
Family Dollar
) is 25 miles away. Another thing reminded me of my 1992 visit to the Navaho and Hopi reservations in Arizona: I saw many satellite dishes .. homes here may be outside the reach of cable (or maybe they're just smarter than those who subscribe to cable!).
In rural Texas, locating a restaurant to seat 8 people (2 of the 10 were local) at 1pm on a Sunday ("after church") is not easy. Most restaurants were either closed or full. Our first choice was
Golden Chick
(a chain which I enjoy) but they couldn't accommodate our
huge
party. We ended up at
the
Dairy Queen
; I tried their
Chocolate Dipped Strawberry Blizzard®
along with a Chicken Fried Steak. The parking lot was filled (30 cars?) but we rearranged some tables and had no problem.
A nearby small town is named Jean; you could see the [Now Leaving] signs a few hundred yards from the [Now Entering] signs. There are many small Texas towns named after someone's first name; memorable ones include the
twin cities of Clyde and Claude
; Elbert and now Jean.
One of my newfound relatives-in-law is a truck driver, and he was very helpful in suggesting an alternate way home (indeed, it shaved
almost an hour
from the return trip
and
I got to pass through Boyd - home of the
legendary Tater Junction
(closed at 3pm Sunday) and the
International Exotic Feline Sanctuary
).
I travelled across 6 counties (Dallas; Tarrant; Wise; Jack; Young; Throckmorton); add them together for 5,496 square miles (
nearly equal to the state of Connecticut
@ 5,543 sq miles). source:
eachtown.com
. Spotted en route:
Texas Forts Trail
signs.
Getting there took 3 hours at mostly 70mph limits; en route, I saw a dozen or more instances of roadkill - skunks, armadillos, raccoons .. several of which were being feasted upon by carrion (only one vulture cooperated for a photo). Also saw lots of
black-eyed Susans
and other wildflowers which I didn't recognize, along with a surprising amount of cactus. The weather cooperated nicely, excepting a few big raindrops on the way home.
I ended up driving about 375 miles, versus the predicted 300. Some of this was due to anticipated local diversions (where someone once lived, cemetery visits, etc.) but most of my unexpected mileage came from trying to get
in/out of the DFW Metroplex
properly. Lesson learned: pay close attention to that sign where 820 (the loop around Fort Worth) goes east/west (or is it north/south?).
I took 112 photos today, many from the car while en route. First glance shows that only 4 or 5 were bad shots - out of focus, excessive glare, etc. Now, I'm a wee bit tired from my adventure, and hear thunder in the distance. Another night of storms, I reckon.